Kind Words
from our clients
Amazing, highly recommend! Great service and great quality photos!
Such a great experience with Athens Photo Booth and with Annie! Great communication leading up to the event, great design options for the photo strips, and the day of there were absolutely no issues! The quality of the booth was really the best part- the pictures are flawless, and everyone loved it! My guests and I could access all the pictures online right away, which was also great. I had them make me a memory book the night of with all of the pictures, which turned out great and something I will keep forever. Overall awesome experience, would HIGHLY recommend to anyone!
Athens Photo Booth (and the owner/operator Annie) was fabulous at my daughter's wedding reception. The Photo Booth mixed with the open bar was a great way to get people to mingle, have fun and really enjoy themselves. The Bride and Groom and all the guests, young and old, absolutely LOVED it. Annie is so professional, fun and into it! Even when she had completed the time we had hired her, she asked me (mother of the bride) if there were any other guests or shots or pictures that we wanted to do. That was awesome! We squeezed in a few more! If you want your celebration (whatever it may be) to be FABULOUS, you have to hire ATHENS PHOTO BOOTH. They will work with you to customize the background, pictures, etc. to be exactly what you want. Thank you so much Annie!
Instead of a traditional guestbook, my husband and I decided to go with a photobooth and have guests leave one copy of their photos in a book they signed. From the time we first spoke to the big day, Annie was so easy to work with, and she tailored a design for our photo strips that we loved! During the reception, Annie did an EXCELLENT job of making sure our guests left a photo and signed the book while at the same time keeping it fun! We had so many entertaining props, and our guests raved about the experience. Best part is that now we have a photobooth album to look through to relive our night – hilarious! Additionally, we also were able to download the digital version of all of our pictures. I would 100% recommend Athens Photo Booths!
Annie was absolutely fantastic! She was very helpful, payments were easy, and affordable! My guests had an incredible time in the photo booth and we got one of our favorite pictures of us! The memory book was so worth it and we'd book them a hundred times over!
Annie was great! We loved how the book turned out. Everyone had a great time and the pictures are so fun to go back and look at. I highly recommend renting this photo booth!
Who doesn't like some good photo booth fun at any event?! Annie did an amazing job at our wedding. She made the process very pleasant and easy and all the guests now have some fun wedding favors and memories to cherish. She was there to help direct people while taking photos and encouraged myself to take photos with my parents which I'm so glad I did because now I have some fun photos to look back on, aside from the wedding pictures. We highly recommend!!!
Athens photo booth was the perfect addition to our wedding reception! We had our reception at the Classic Center in Athens, and knew we wanted to do a photobooth to give our guests and ourselves something fun to do. Annie the owner/attendant was on hand and was so helpful and gave everyone full instructions on how to use the machine and when to pose, and made sure that we had awesome props to go along with our pictures. Our guests loved it and everyone left with great pictures! Annie allowed us to pick out the frame we wanted our guests pictures to come out in, as well as what color we wanted for the background of the photos.
In addition to giving our guests a great souvenir and activity, Annie also put together a memento book for the groom and I that contained a copy of all of the pictures taken in the booth, and next to each picture was a handwritten message from each of the guests. It was such a great keepsake to have from our wedding, and was a great way for us to commemorate the day. Annie had the book ready for us as soon as the reception was over, and did a great job of making sure everyone who posed in the photobooth also contributed to the book! We also got a link to all of the pictures taken in the photobooth that we could look through and share with friends or share on social media.
Overall Athens Photo Booths was the best addition to our Athens wedding! Our guests and us had so much fun using all of the signs, glasses, boas, hats, masks, and other props provided by Annie, and we loved having an activity that everyone could participate in and get a little keepsake for the day.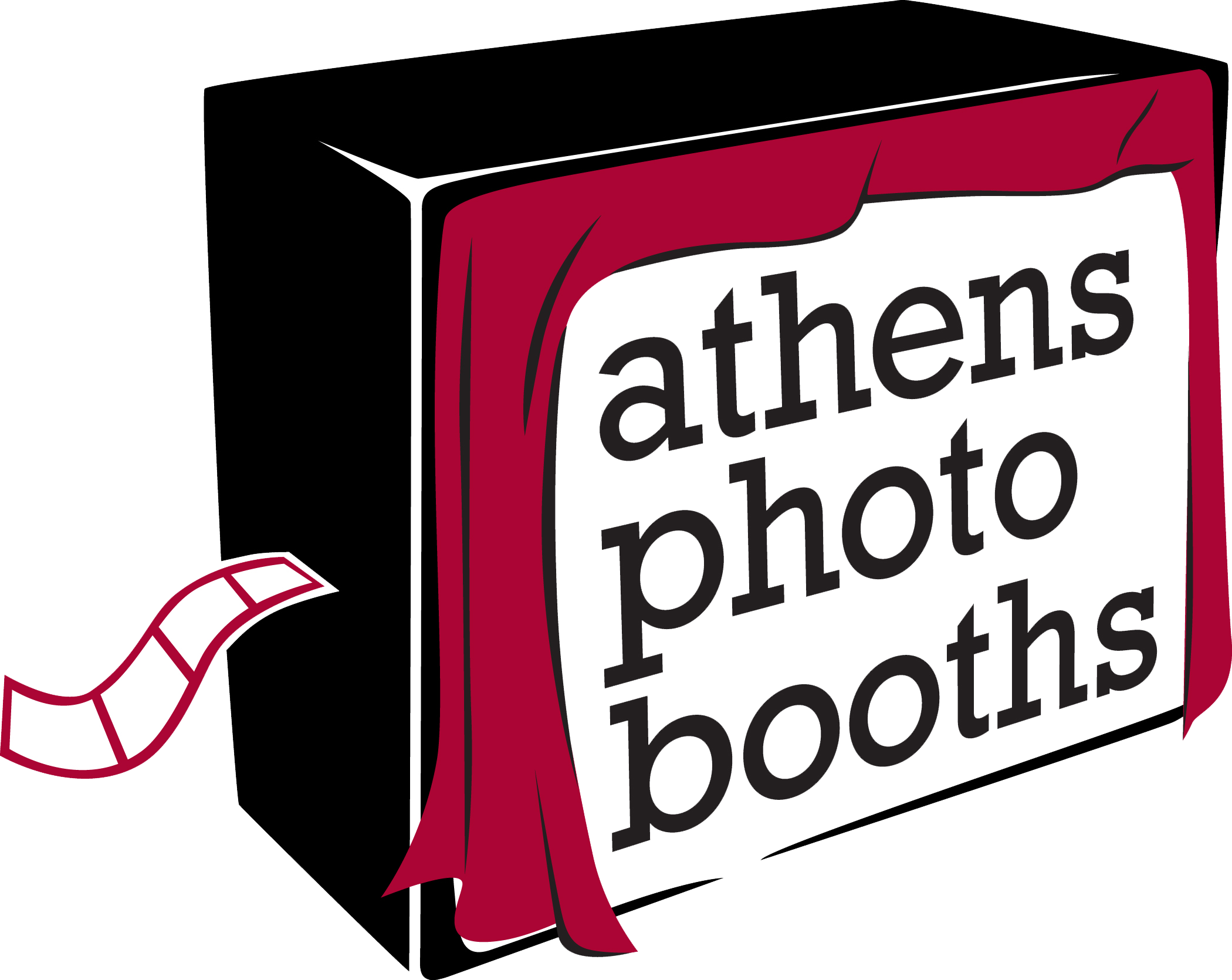 Based in Athens, Georgia, USA
Servicing Athens and the surrounding counties, Madison, Lake Oconee, and Northeast Georgia